Welcome!
Welcome to BareBrands - Promotional Products Toronto!
A unique place to find promotional products. We've been working with promotional products since 1999, and have just about seen it all. From pink elephants to underwater weddings, we've helped people be noticed and remembered through the effective use of promotional products.
Why do people use promotional products? Well, it's because they are the most cost-effective advertising medium per-impression. Not only that, but the product you give out actually says as much to the recipient as your brand does. If you give out something that's useful and beautiful, the odds are they will keep the item and they will keep it for a long time. Studies have shown people who keep promotional products because of their functionality keep them for over a year! Now how many newspaper ads can you remember from a year ago? Commercials? Radio ads? Exactly. But we're sure you know the logo on your favourite mug / pen / jacket don't you.
So why not utilize this great advertising power for yourself / your company / your team? Feel free to search for product on the left or in the quick search bar at the top and fill out a quote request. We'll get back to you ASAP!
Oh, and one other thing. Unlike some other listings you're going to find online we are actually located in Toronto. The majority of our product ships from Toronto too, but some ships from Montreal, Philadelphia and as far away as Miami or Vancouver. Don't worry though, your freight charge will always reflect shipping from Toronto. You won't ever get hit with big shipping or any brokerage bills. We take care of all of that.
Thanks so much for giving us the opportunity to earn your business, and we look forward to hearing from you!
BareBrands - Part of AOK Marketing Group
Toronto, Ontario, Canada M9R 4C8
Featured Item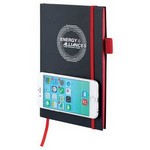 Color Pop Suction Bound JournalBook™
This exclusive design will be sure to brighten up your day and conveniently hold your smartphone with it's suction cup panel. Soft matte black cover highlights the most subtle or colorful logos. Inclu...
C$7.16 - C$9.01
Signature Showrooms